SoulCollage® is a fun tool for easy breezy, artful self-expression. This intuitive collage process is accessible to everyone. NO prior artistic ability is necessary. Unleash your imagination and explore your creative potential with this unique and joyful experience. You will handcraft a 5x8 card stock with images you gather from photos and/or magazines images guided by your intuition or intention. Your deck of collaged cards become the visual story of you.
SoulCollage® is an opportunity to discover your hidden talents and dive into building your 'best life' plan with confidence and optimism. Ready to try?!
SoulCollage® is pure magic.

SoulCollage® is an intuitive and/or intentional creative process. We are all born creative. Then, we tend to spend the majority of our adult lives forgetting to exercise it. SoulCollage® is the gift that reminds you it still exists.
Safely exploring your own creative boundaries allows you the freedom to visit all the unique parts of yourself laying wait in the shadows of your everyday life.

Individually or as a part of a group, you will be guided on your unique creativity quest.
After you create your collage, there is as an optional journaling exercise. As you mindfully reflect on your collaged card, your journey of self-discovery begins.
"Our workshop was a delightful experience for everyone, some with art experience, others just curious. Veronica's presentation engaged everyone. Each participant came away with several personal collages and the feeling that it was an afternoon of artistic, emotional and supportive sharing. The first comment after it ended was 'When will we have another SoulCollage workshop?'" - Renee', Shelter Rock, NY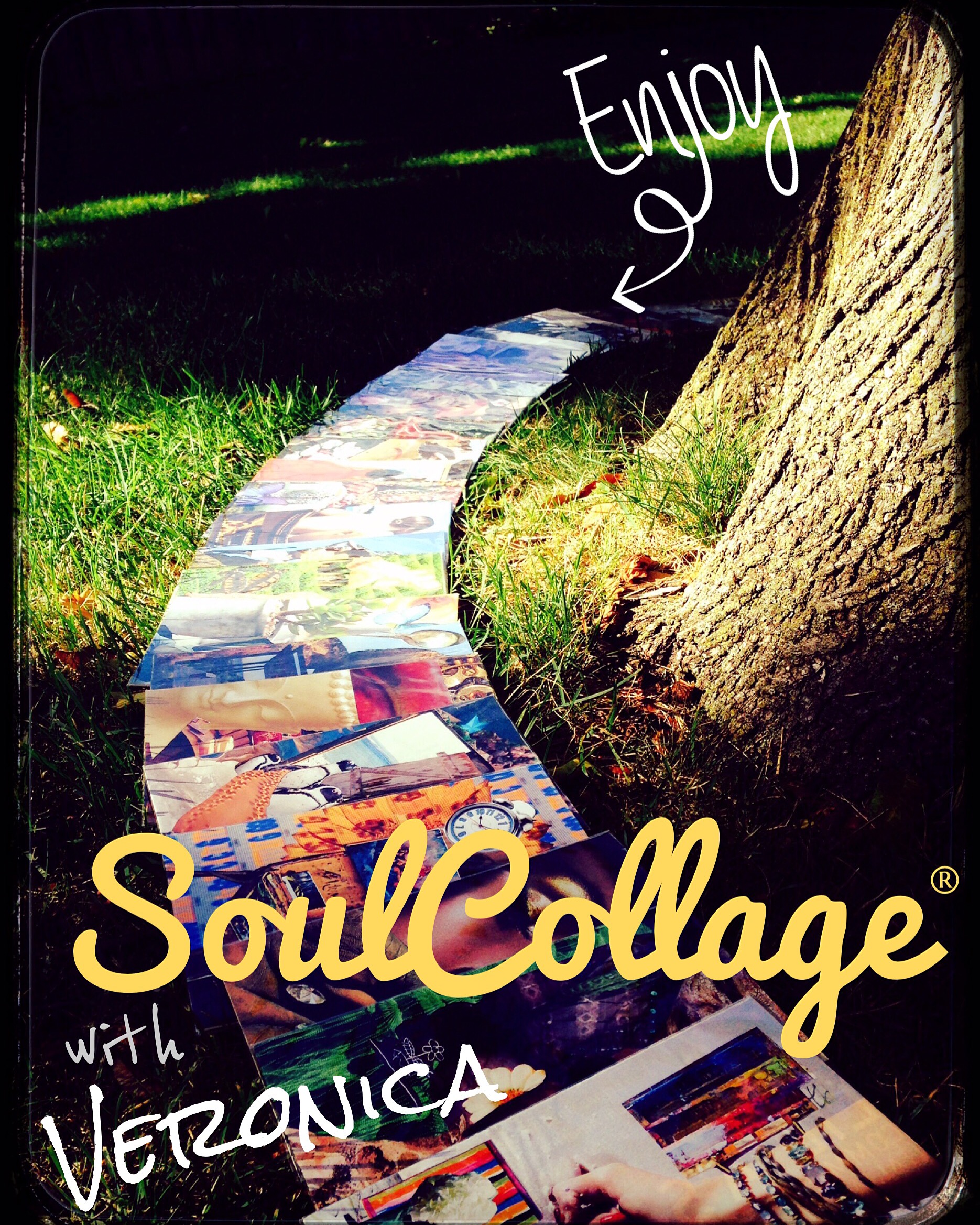 SoulCollage® lends itself to a myriad of workshop opportunities;

Individual Self Care and Discovery
Small Groups of friends and/or family
Business 'Team Building' Events
Parenting Groups
Wellness Organizations
Therapeutic and Spiritual Settings
Respite Retreat for Caregivers
'Best Life' Planning Parties

Workshops are uniquely designed to meet the needs of individuals and groups. Contact me for more information on pricing and how to book a workshop.


SoulCollage® is a trademark process created by Seena Frost. The author of SoulCollage® Evolving: An Intuitive Collage Process for Self-Discovery & Community, Seena, inspired the growth of the community of thousands of trained facilitators worldwide.
"The SoulCollage® practice is here to help people discover and take into consciousness information about the evolving and ever changing state of their Souls... It's a way to embrace oneself and also discover ways towards balance." -Seena Frost
"Discover Your Wisdom. Change Your World™!"
For more information and a full history, please explore:
www.soulcollage.com

SoulCollage® Guidelines:
SoulCollage® cards are for personal use and inner exploration only. They are to be reproduced only for the personal use of the maker of the card. They are to be shared but not sold, bartered, traded or copied (except for the cardmaker's own use). SoulCollage® cards are collaged from images found in purchased or donated magazines, calendars, books, cards, etc. and from stock photos and/or personal materials. SoulCollage® is grateful to the artists and photographers whose images inspire us to recreate and discover our collective wisdom.